Stig Marcussen: Beautiful Paintings from an Unbeautiful Mind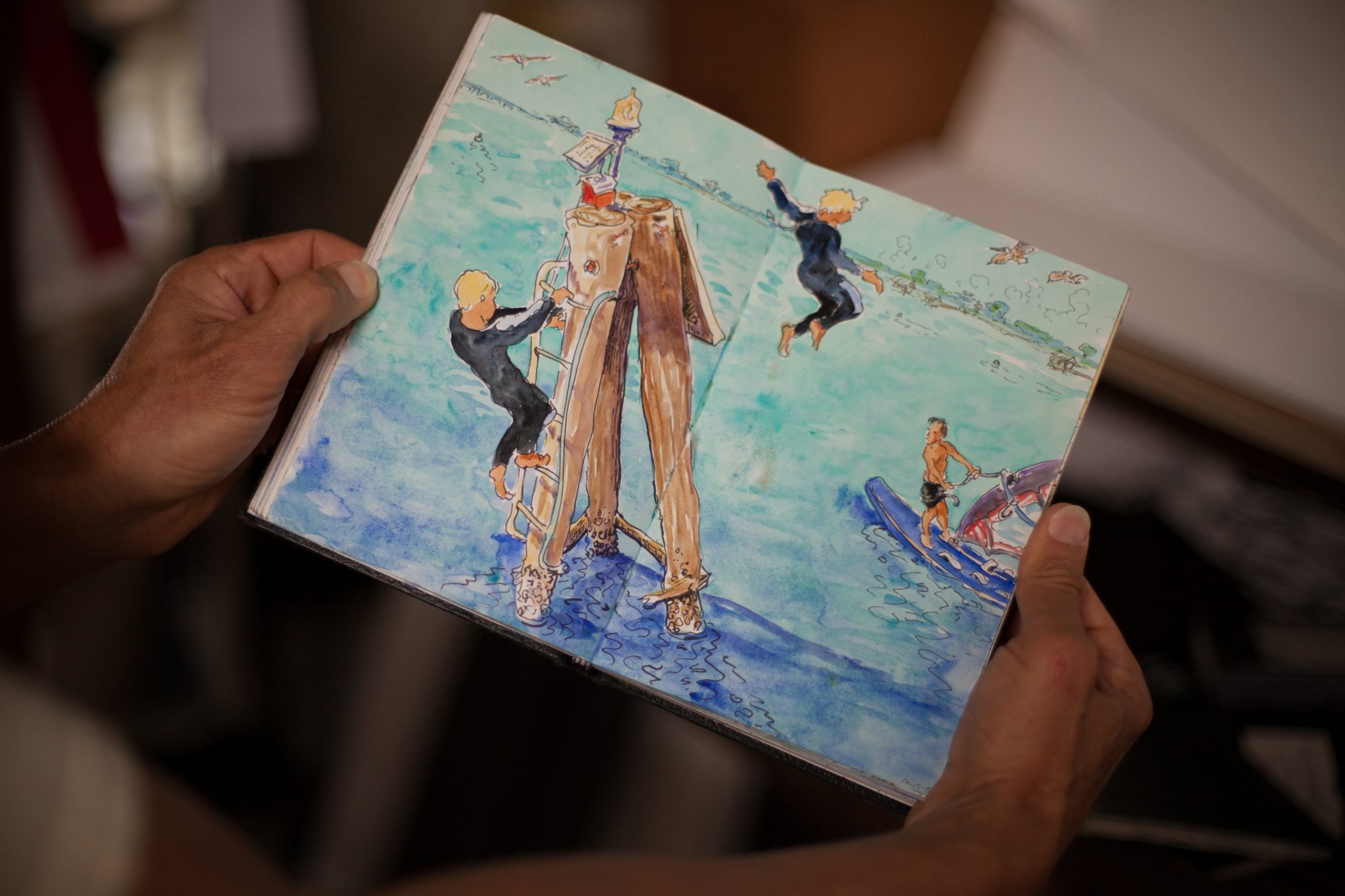 Painter Stig Marcussen is intense, cynical and a manipulator. People buy his cards and prints when he tells them to. He doesn't like to be hugged and takes pride in sucking the air out of the room and having dark secrets. He says he doesn't have beautiful thoughts, but daily paintings in his little black books of days fishing, snorkeling, and playing in the back yard with his two blonde-haired boys show a man happy with his life, even if he doesn't like people.
Marcussen has traveled the world with his paintings, trading them for surgeries, the birth of a son, veterinarian bills, and house payments.  He has no computer, no cell phone, and doesn't like to answer his landline phone. His proudest accomplishment is getting a root canal without a shot–twice. He is happiest in his studio behind his house in Ocean Springs, Mississippi or windsurfing along the Mississippi Coast. His boat is loaded with wind and paddle boards, and he is on the water every afternoon.
"I play and I paint. There is not much difference between the two," Marcussen says. "I will never be known for being a great painter, but I will be known for my ideas and gritty, dark humor. My job is to show the seedy, underbelly of existence. People relate to that because we all have a dark side and a secret life."
Marcussen was an Emergency Medical Technician in college, and working in desperate situations made him calm and unemotional. "After you have seen everything that can happen to a human being, the messes they make and everything one person can do to another, you've seen the darkness of existence," he says. "But I like the world being nasty and ugly."
Describing himself as a "space alien born to parents who never should have gotten married,"  Marcussen found out a few years ago that the elderly dad he is caring for isn't his real father. His family moved from Denmark to the United States when he was 5 years old and he left home at 15 when his mother started charging him rent. Local families took him in while he took care of their kids.
"I learned how to take care of myself at an early age because my parents didn't know how to do it," he says.  "I paid for everything I did and my parents didn't come to my games. I knew I was the only one who was going to make me happy and learned how to fit in anywhere. My motto became 'You can solve anything with the tools at hand.' Using the tools at hand has kept me out of jail several times."
Marcussen put himself through college at Mississippi State University making $400 a day airbrushing T-shirts for sorority girls. He majored in engineering and planned to be a doctor, but after working nights as an EMT for five years, he switched to art during his senior year.
After art school, Marcussen traveled from commission to commission from Tibet, Australia and Costa Rica to cattle ranches and shipyards in the United States. "I had great vacations and bought rental houses with the money I made," he says. "I now have seven rental houses and the income lets me do my art the way I want to do it. I had a plan and stuck to it so I can be home with my boys and paint full time."  
One of Marcussen's first projects on the Gulf Coast was Baldwin County Portraits commissioned by Robbie Wolff who owned an art gallery in Fairhope and wanted to record Baldwin County as it was changing from farms to subdivisions. For 22 months, in 1988 and 1989, Marcussen painted barns, fences, tractors, fields, pecan orchards and shrimp boats along every road in Baldwin County. He produced 400 oil paintings, 400 watercolors and 700 pencil drawings. A collection of those hang in Thomas Hospital in Fairhope. "Stig created a phenomenal amount of artwork for that project. Most artists don't produce that much in a lifetime," says Wolff. "Stig is one in a million. He may not be one of the best humans in the world, but you still want to be a part of his journey."
Today, Marcussen's art is in galleries and on the walls of offices, hospitals, and restaurants across the Coast. "Stig's murals were on the walls when we bought this restaurant in Ocean Springs," says Mickey McElroy, owner of McElroy's restaurants in Ocean Springs and Biloxi. "Katrina hit and tore up a bunch of his stuff and he replaced it for free. He has been so good to us and good for Ocean Springs. People see his work and want to buy his paintings and meet him."
Inspired by Walter Anderson, Marcussen gives people what they want to see — everyday life in a different way.  "My family moved to Ocean Springs the day after Walter Anderson died," he says. "I was five years old and saw his blue crab. It said more about a blue crab than seeing the real thing. Every time I draw a crab, every part is studied and when I am done, I know that crab. The claw feels like a claw holding weight and existing in space."
Research is the fun part of art for Marcussen. His studio walls are covered with bookshelves filled with turtle skulls, crab legs, and driftwood. Shelves are filled with National Geographic magazines and reference books: Seasons of Light, Nature Travel,The Ocean at the End of the Lane, Birds and Blooms, and Naturalist by E.O. Wilson.  
Next to the easel on his back porch is a bucket of fishing bobbers, a spoon, barnacles, shells and broken bits collected from trips to the beach. The screened porch overlooks a backyard with birdbaths and crab traps, citrus, palm, and magnolia trees, and plants to attract the Gulf Fritillary butterfly. Turtles come by every day to eat watermelon.
"I paint from the real thing, but I paint the idea of the thing," he says.  "I watch for the moment that is most picturesque and I will draw something 20 times until I find one that works. I will spend three hours drawing an oak tree, figuring out how it exists, and making rational decisions about it. I am humbled by trying to draw it."
Marcussen sees each painting as the frame of a movie with lighting, characters, dialogue, and plot. Pelicans fly above Pirates Cove where boats line the beach and children play in trees. Silhouetted cyclists cross a bridge over a bayou, and barnacle-covered crabs crawl along an oyster bed. Dots fill the horizon with clouds and sky. Lines create shade, fur, ripples, scales, bark, and feathers. The mind of an engineer is behind the beauty of the composition. The placement on the paper, the angles in the bends of elbows and crab claws, and the curves in wings and tails.
"Stig shows us where we live and what we see, but from angles and perspectives that we don't have," says Cathy Collins, owner of Ashland Gallery.  "He can draw a pelican from any angle or draw from the bird's-eye view. He is connected to nature and looks at every detail. He doesn't experiment with a lot of styles. The experiment is within what he does."
In art, creativity needs a constraint and Marcussen's constraint is a 13-by-29 inch piece of paper. "Every paper is the same. What can I say in that space?" he says. "When I paint, I am in a flow state and it makes me feel completely alive."
Marucussen's favorite quote is by Monet, "Art is facts seen through a personality."
"People like art if they can see the personality behind it," he says. "I don't know what they see in my personality because I spend most of my time making fun of the human condition. Because I don't like people, I am forced to study them like a sociology experiment. All of this art is about not liking people."
Marcussen paints his dislike of people and dark humor into the 10 Christmas card designs he makes he makes each year.  "When you see an alligator under the mistletoe, you don't know if you are going to be kissed or consumed," he says.  "I take the critters everyone knows and transform them into people. Animals getting drunk and playing cards at Christmas, getting socks and underwear for gifts, being solo at a party while everyone else is paired up. Everyone knows those feelings and people see themselves.
"I think about the personalities and how they fit together," he says. "Santa taking a selfie with the pretty animals in front and the smokers in back. If I do that with people it is cruel, but with animals it is funny. I made a lady buy a pack of Christmas cards at an art show and she walked away saying the cards are the most disturbing things she have ever seen.'"
When the painting is finished, he looks at it for 15 minutes and moves on. "I am completely alive when I am painting, but once I am done with a painting, the challenge is over and I don't care about it," he says. "The exciting part is not knowing if the painting is going to work or what is going to happen."
Three Minutes with Stig Marcussen
Marcussen is more interested in the journal books that he paints in every day that make him disciplined and use his creative muscle. The journals began on January 1, 1983, when he was in college and someone suggested that he make a drawing a day. He is on book 190 and has painted 19,300 pages so far. He has a system for looking at a different book each day.
"I had no idea what it was going to become, but it makes moments significant," he says. "I call them 'Little Book Moments' and the paintings are the moments I can't save with a photograph. I write the moment down in the back of the book at the end of the night and draw it first thing the next morning."
Each journal painting takes 13 minutes. "I don't work everything out any more," he says. "I just go. When I look at these books, I get the day back and know what it felt like to surf with friends in Hawaii. There is one of my son, Reef, running across the street with a truck close by. Reef should have been hit by the truck and died that day. I still shudder when I see that one."
"Good, bad, and indifferent, these books show what I did," he says. "I show people my little book and it sucks them in and gives me legitimacy. This is my life and who I am. This is what is important to me. One day I will be really old and look back at those and say, 'Wow, I've had the greatest life.'
"Everyone should live in that world where they are alive and everything is on the line whether you are pumping gas or putting on makeup," Marcussen says. "Nothing is inconsequential. I take this job of drawing pictures and ramp it up until everything is on the line, every time, and it makes me feel alive."
From an early age, Marcussen learned how to give people what they want and they will give him what he wants.  
"My goal is to show people something they see every day in a different way and to show what a point in time looks like. I want to help and be of service through my pictures because I don't like people and can't be of service to anybody being me."
Marcussen's art and Christmas cards are sold at Ashland Gallery in Mobile, Lyons Share in Fairhope, The Pink Rooster in Ocean Springs and Negrotto's Gallery in Biloxi
Photos by Ann Dinwiddie Madden and Lynn Oldshue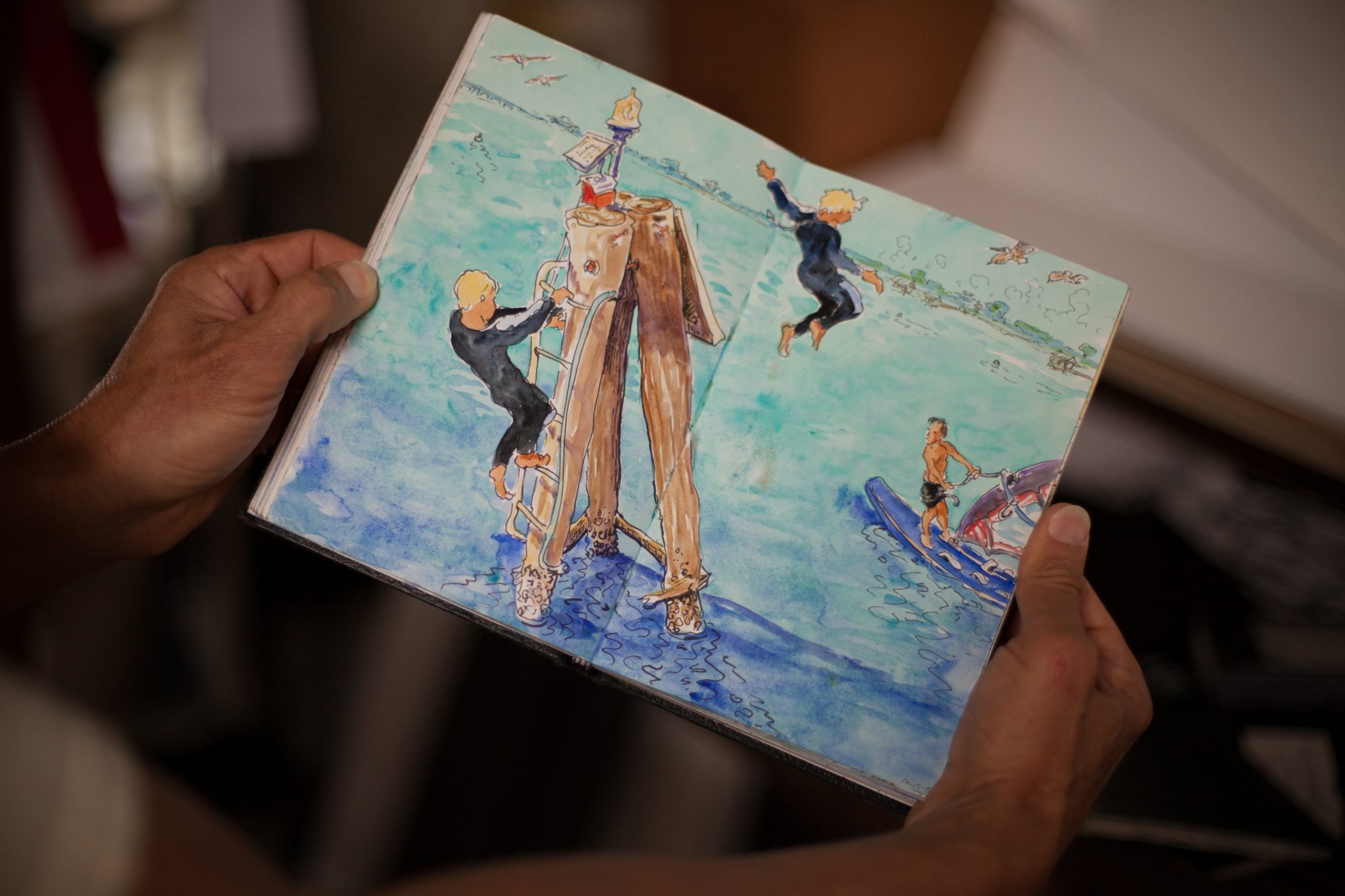 5